In Early February of 1984 Bernie organized the first practice for the first "gigging" version of MYSTIC EYES. Bernie (vocals, guitar) and Craig (bass) teamed up with room-mates David Meinzer (vocals, guitar) and Stuart Shappiro (drums) at their Minnesota Avenue apartment attic to thrash out a set list.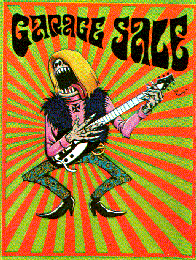 In March, Bernie, Stu and Craig gathered at BCMK Studios to record a track for possible inclusion on the ROIR/GOLDMINE compilation, "GARAGE SALE." (David did not attend as he had tickets for a Buffalo Sabres game.) Keyboardist Tom Kaminski just happened to be in town, though and that's how "I Lost My World" came to be the first Mystic Eyes track to feature an organ part. Once again, Mike Brydalski worked his production magic and once again, the band made the cut!
The first (and best) show by this version of the band finally happened in August, opening for 10,000 Maniacs. No big deal, though, as this took place at a bar called "Broadway Joe's" which was about 2 blocks away from Stu & Dave's apartment/rehearsal space.
Things soon started to fall apart when Stu bought an expensive set of Simmonds synth-drums and David decided to escape "Sixties' Cover Band" territory to form his own band. After a WBNY-FM live in-studio radio appearance and a few more local gigs, David and Stu broke free of the Mystic Eyes' orbit leaving Craig and Bernie to plan their next mis-step.