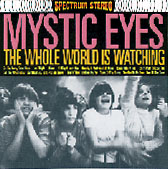 1995 saw the release of the long-awaited (by the band, at least) second album, "The Whole World Is Watching!" What a pleasant surprise to find that after seven whole years there were people what actually remebered there was a first album. Get Hip even printed up promo posters for this one! Does it get any better than this?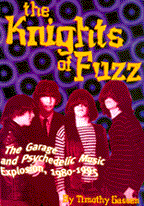 In 1996, Timothy Gassen's updated garage band reference guide, "The Knights of Fuzz" was published. Mystic Eyes received rave reviews and was voted into the top 100 garage bands of the eighties!
In 1997, Mystic Eyes made the short list to play the first-ever FuzzFest in Atlanta, Georgia during Labor Day weekend. Since Scott was already living ninety miles outside of Atlanta (his Norwich, NY gig having given way to a Colubus, GA shift supervisor position), it was a simple matter for Eric, Craig and Bernie to jet in with their guitar cases like big-time rock stars! After a quick, unplugged rehearsal at the motor inn, the middle-aged mavens of mayhem were ready & rarin' to go. As an added bonus, Amy and Steve Internicola (the sister and brother-in-law of the Davison brothers) were on hand to join in the festivities.
What a night! The roster for the evening was The Girls Bombs, Mystic Eyes, The Boss Martians, The Hate Bombs, The Loons with super-special guest headliners, GONN, the original "Blackout of Gretley" boys! It was a blast to see an international mob of garage-heads singing along with the Mystic Eye set list! The bands and the audience all had a great time, and four very tired Mystic Eyes went home happy, with their ears ringing.