1985 found Bernie, Eric & Craig working out their new version of MYSTIC EYES while also looking for a new drummer. Drummers for a retro-sixties garage bands seemed to be in very short supply and the trio followed a few blind alleys until the solution once again dropped right into their laps.
Scott Davison was hanging out at Craig's apartment one day and volunteered to take over the drummer's slot in the band. It was as simple as that!
With the Davison brothers supplying the bass/drum rythm bed for Eric's twelve string jangle and Bernie's punk sneer vocals, the MYSTIC EYES' line-up had finally gelled. To celebrate, the band convened at BCMK studios to record "I'm Glad I Walked Out That Door" for the German "Declaration of Fuzz" compilation album.
The new line-up also played on a triple-threat garage band bill with The Splat Cats and The Chesterfield Kings at Buffalo State College. There, Gregg Kostellich of The Cynics caught their act and offered to put out a single for them on his new Get Hip record label. Thus did Mystic Eyes become the first act (aside from the afore-mentioned Cynics) to appear on the Get Hip label!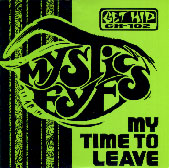 Back to BCMK and Mike Brydalski they scampered to lay down two new tracks. The A-Side became the Kugel-penned "My Time To Leave" with the flip-side being a re-working of Q-65's "From Above". Strongly featured on both tracks were Eric's folky 12 string and Craig's newley-purchased Ace-Tone organ.
The single was released in Spring of 1986 to a very enthusiastic reception. "From Above" found it's way onto many international college playlists and served to further cement MYSTIC EYES' reputation amongst the rabble of mid-eighties garage band revivalists.