1997 Ended with a big jam-session at Buffalo's Mohawk Place. Bernie and Eric played an inpromptu show with David Meinzer and Mike Brydalski filling in for the missing Davison brothers.
By 1998, Buffalo's ever-imploding economy claimed yet another couple of victims, as Craig and Michelle Davison moved to North Carolina in search of jobs. This left but one Mystic Eye in Buffalo, NY!
Bernie had put together a new group in Brooklyn, which was dubbed The Bernie Kugel Syndrome. They were fortunate enough to play with Roy Loney and to gig at a wedding reception early in the summer of '98.
Sadly, a series of event came to pass later that Summer that would bring down the curtain on the Mystic Eyes era.
The owner of BCMK Studios, Tommy Calandra, (who deserves his own web site!) died suddenly at his home above the recording studio in July. Without Tommy's benevolence, Bernie (or any number of Buffalo-area musicians) would never have been able to set foot in a recording studio.
Concurrent with this calamity, Eric checked himself into the county hospital, complaining of severe abdominal pain. Bernie managed to visit Eric in the hospital while in town for Tommy's funeral. After having several litres of fluid drained from his stomach the doctors were able to run tests and determined that Eric had advanced pancreatic cancer.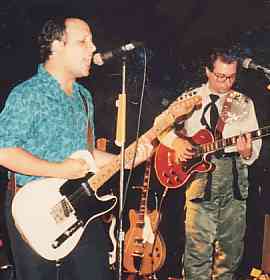 The folk-rock heart and soul of the band was stilled when Eric passed away in early August at the age of 45.
Since this time, Bernie has been on disability due to complications from what turned out to be a heart attack. As always, he is still deeply devoted to rock and roll and is enjoying the computer age immensely.
Craig and Scott continue to plug away at their jobs south of the Mason-Dixon line...